Speech and Language Therapy for Children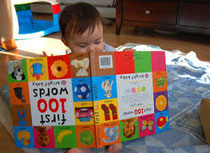 A child of any age can be evaluated. Some children are considered "at risk" for speech or language problems due to an underlying medical diagnosis. These children should be evaluated at the time of the diagnosis and monitored regularly per the pathologist's instructions. In addition to typical speech and oral-motor skills, there are known pre-speech behaviors which must occur before a child begins to speak. These include jargon, babbling, turn taking, imitation, and other social-pragmatic skills.
The earlier a child can be diagnosed or identified as needing support, the better the outcomes. Some pediatricians advise a parent to "wait till 24 months" (when a child should have two-word sentences already well established) but this can be valuable time lost in speech and language acquistion and brain development. Please don't wait, contact us, we are experienced in the diagnosis and treatment of infants and toddlers.
Apraxia

Articulation

Dysarthria

Stammering

Stuttering

Voice
Aphasia

Learning Disability

Dysnomia

Asperger Syndrome

Semantic Pragmatic Disorder

Expressive Language Disorder

Mixed Receptive-Expressive Language Disorder